A Fun Way to Learn History!

Search historic artifacts for answers to questions. Explore a school house from the 1800's, relics from the Revolutionary War and a museum filled with Americana. Weather friendly- all events are indoors! Cost is $3 per child for each event (members free). Arrive anytime between 1pm and 3pm. Questions take approximately 45 minutes to answer. Recommended ages: 9 - 14 years old. Children must be accompanied by an adult.
The Series benefits the hosting non-profit organizations and is designed to promote both reading comprehension and a better understanding of our local history through hands-on educational opportunities.
Each location has different artifacts and scaventer hunt questions. Whether you can make one or all three - we hope to see you this summer!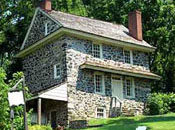 June 3, 2012 1pm - 4pm
Chadds Ford Historical Society
1736 Creek Rd. Chadds Ford, PA 19317
(610) 388-7379
Email: info@chaddsfordhistory.org
www.chaddsfordhistory.org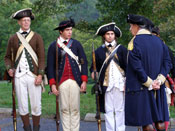 July 22, 2012 1pm - 4pm
Brandywine Battlefield
1491 Baltimore Pk. Chadds Ford, PA 19317
(610) 459-3342 ext 3001
Email: etrorke@gmail.com
www.brandywinebattlefield.org
Interact with General Washington (as portrayed by Carl Closs: www.GWashington.net)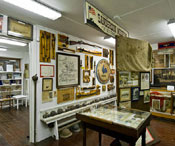 August 19, 2012 1pm - 4pm
Sanderson Museum
1755 Creek Rd. Chadds Ford, PA 19317
(610) 388-6545
Email: info@sandersonmuseum.org
www.sandersonmuseum.org